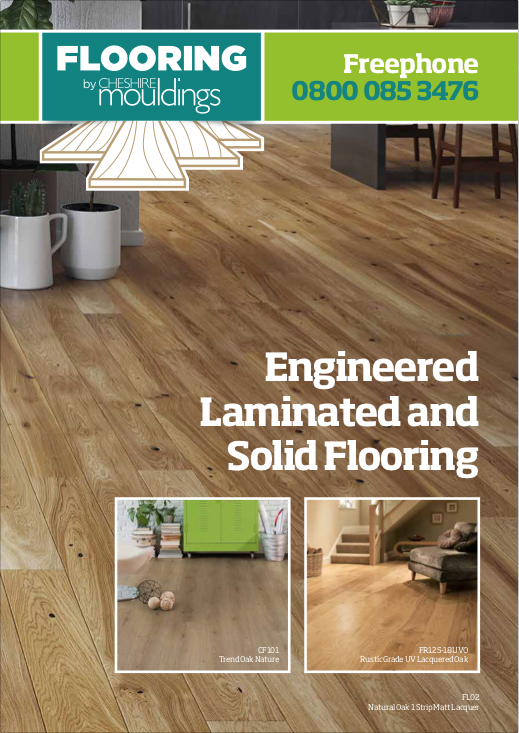 Cheshire Mouldings always strive to offer our customers a complete solution to renovate and decorate their homes. We are now pleased to announce our brand new flooring collection, which includes a range of Laminate, Engineered and Solid Oak Flooring.
Laminate flooring
Our range of laminate flooring is one of the most popular due to its durability, ease to clean and its high quality hardwood look finish.
As photography and printing and technology has improved laminate flooring has been able to catch up with its real wood counterparts at an incredibly fast paced. Many are unable to distinguish between laminate and real wood flooring without touching them.
Durability is one of the top factors in many customers purchasing laminate over other types of flooring. It's resistant to kids, pets, dents and staining making it a good investment.
Engineered flooring
Engineered wood flooring is a 100% solid construction floorboard with three different layers of wood to create a stable, durable and quality floor solution. Engineered flooring is closer to solid wood flooring than it is to laminate flooring as it is a completely timber product which has been engineered.
The top layer of engineered flooring is the genuine oak layer which gives it the genuine finish, the middle and bottom layer are made of a cross structure of coniferous wood and it's these layers that give it its strong core and easy to install 2G/5G system.
The 5G Barlock system also allows for 25% faster assembly and our boards are clean, safe and comfortable to reduce the risk of contamination during fitting as well as a reduced risk of damage during installation or dismantling.
What is solid oak flooring?
Solid oak flooring is a 100% natural wood product and the premium range of flooring we have on offer. Solid oak floorboards are named as such because the boards are made of just one piece of solid timber. How it's cut can differ from product to product; it can be flat-sawn which is the most common method or rift-sawn where the wood is divided into quarters and then flat-sawn. Once sawn, they are placed in a kiln for drying before the boards are finished.
As solid wood flooring is a natural product it is not an imitation and can create a stunning, rustic and authentic feel in any room they are laid in. Tough, hard wearing and very durable; solid wood flooring can last you generations.
If you would like to see our full range of flooring view our brochure now Click Here!
So, if you're interest give us a call on 0800 085 3465 today!