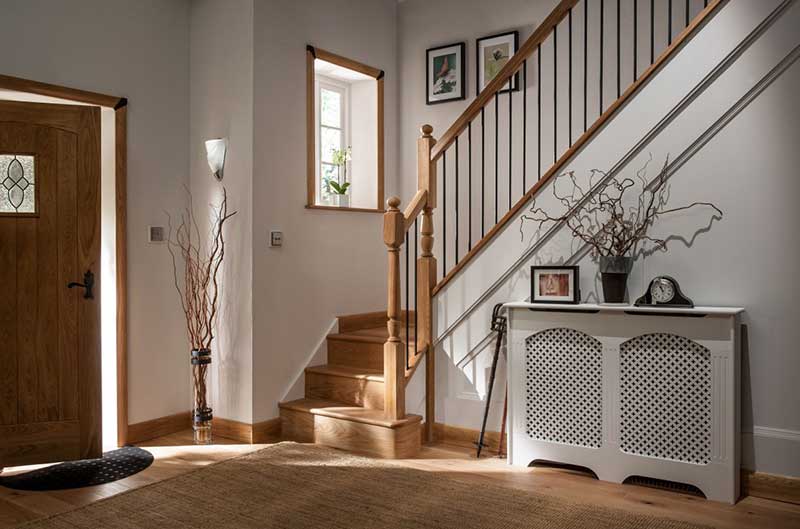 MAKE A STATEMENT WITH OUR CONTEMPORARY STAIRCASES
Our collection of contemporary staircases can add style to any interior. Whether you are looking for a simplistic, modern classic or a bold new design to make a grand statement, Plan Your Stairs can help. Here at Cheshire Mouldings we have a wide variety of contemporary solutions for staircases, including modern newel posts, spindles, newel caps, banisters, and balustrades. These are perfect for new builds and old homes alike, blending in with modernist perfection or adding to a pre-existing or traditional home feel.
For a design with real stair quality, look no further. Our exquisite range of stylish and striking contemporary staircases combine the natural beauty of wood with a mix of toughened glass or striking ivory and chrome spindles or newel posts. Contemporary staircases are designed to make your house more than just a house. They are designed to get the best possible result out of your space, to fit in with existing aesthetics, to encourage light, and all in all create a strong structure for going up and down floors. Contemporary staircases are not to be underestimated when it comes to mixing practicality and style.
You'll find all of our contemporary staircases can be designed to suit the decoration of any home. They are perfect for people looking for that extra something special to make their house a home. Contemporary staircases can use glass or chrome to create truly unique additions to a new build or modern home. Our staircases are something more than just a method of going between floors. They are works of art designed to do more than make a house a home. They are stylish, smooth, and well made, with truly beautiful results.
Plan your perfect staircase in just three simple steps using our interactive planner. Alternatively feel free to contact us or download one of our brochures.