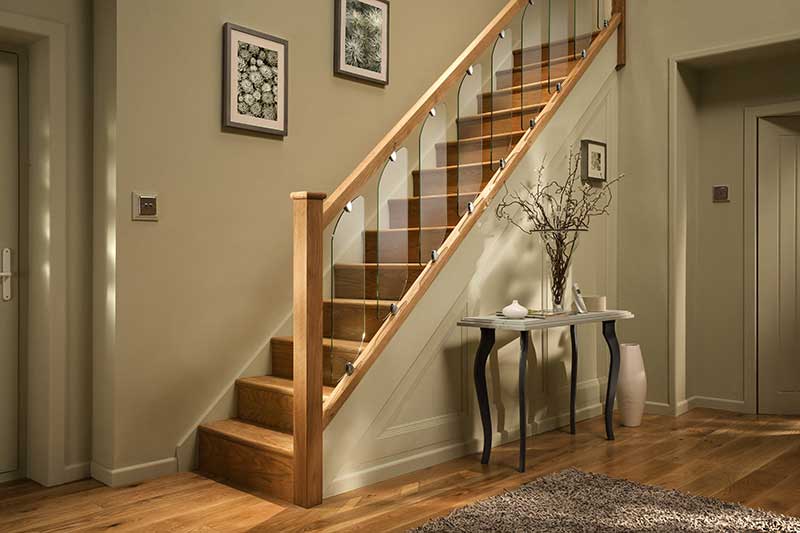 A modern staircase has the power to further improve the feel and look of your entire home. Here at Cheshire Mouldings, we believe that a staircase should be the focal point of your home. Modern stairs are perfect for creating a beautiful yet unique centrepiece.
With many years of experience, we can guarantee that all modern staircase designs from Cheshire Mouldings are made using the highest quality and strongest materials and timbers.
Choose a Modern Staircase from Cheshire Mouldings
The Axxys Evolution stair parts range combines modern materials such as chrome and brushed nickel spindles and fittings alongside traditional wooden banisters and newels creating a gorgeous, warm, modern staircase. The beautifully crafted tubular spindles contrast perfectly with the pine or oak fittings giving a subtle modern twist to traditional stairs.
The Reflections range of modern stairs can also open up your living space by combining toughened glass panels with chrome or gun metal fixings and oak rails. Rather than a curved design, Reflections glass panels benefit from a refined, squared design.
The Axxys Clarity modern stair parts range boasts curved, toughened glass panels, oak hand and baserails and chrome or nickel panel brackets. The Clarity range will create a wonderfully modern staircase while also creating the illusion that your room or hallway is much larger.
Whether you are looking for modern stairs in iron or glass panels, we have everything you could ever need or want.
View our full range of stair parts here.
For more information on the modern stairs that we offer call 0800 085 3465, email enquiries@cheshiremouldings.co.uk. Alternatively, fill in the form on the contact us page.
You could even use the stair planner. This allows you to see exactly how your stairs could look and how much they may cost!