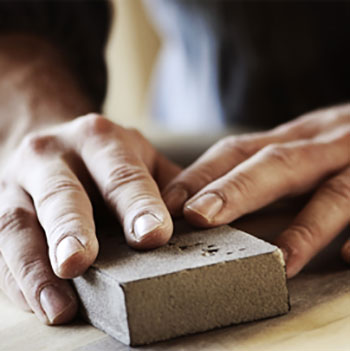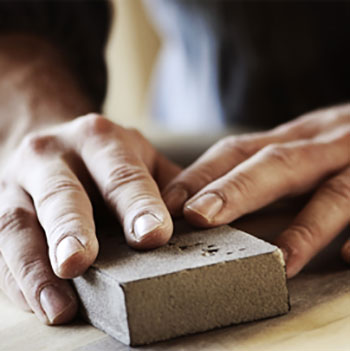 No matter the design, the timber or the finish used on a staircase, it will always need maintenance.
Maintenance needed for a staircases varies upon age, however it is always suggested that maintenance is completed on a regular basis. This maintenance may include, the replacement of loose treads, tightening of any loose components such as newel posts, spindles and hand handrails.
When completing your staircase there are many options available for finishing off your stair parts. The most commonly used are wood stains or dyes, protective wood stains, paint, varnish, oils, French polishing, and, for coarse grained wood, liming.
Wood stains or dyes
Staining penetrates the wood and will enhance the colour. It can also neutralise natural colour variations in the timber if some areas do not quite match. Quick drying, stains or dyes                                                     are normally rubbed in along the grain with a cloth. It should be noted though that stains or                                                     dyes will not seal the wood, so varnishing or polishing will be required as well after the stain
 is applied.
Protective wood stains
Unlike standard wood stains or dyes, the protective variety seals the wood. Normally
applied with a brush and because it is quick drying, further coats can be applied at approximately two-hourly intervals: but always check the manufacturer's instructions.
Paint
New timber needs a coat of primer and at least one application of undercoat before the topcoat of gloss is added. Use what is known as a knotting solution on any live knots and resinous areas to prevent seepage through on to the finished surface.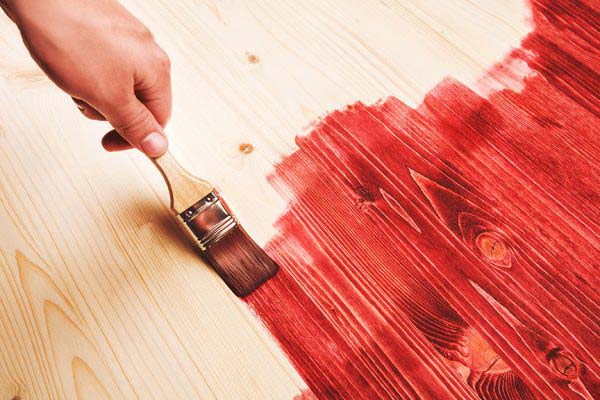 Varnish
There are clear, matt, satin and gloss varnishes, plus tinted versions that will add a coloured finish. Many varnishes will provide you with a heat and water resistant, durable finish which will need very little maintenance (always check the manufacturer's features and recommendations). Coloured varnishes, however, do not penetrate the wood, so add one or two coats of clear varnish to help prevent colour loss.
Oils
You can use oils to seal hardwood – but they are not recommended for softwoods as they discolour and dirty too easily. There's plenty of choice and application is straightforward, either by cloth or brush. Some will accept varnish for protection after application.
French Polish
Layers of French polishing, a mix of alcohol and shellac, will provide an excellent gloss finish, although it can  be easily scratched and damaged by liquids or anything hot. Two-part plastic coating is a more hardwearing alternative, designed to provide resistance to scratches, liquids and heat.
Liming
Liming – unslaked lime and water – comes into its own for coarse grained woods such as oak. When dry, it needs rubbing down with glasspaper, then coating with French polish, finally a coating of white polish. An easier method involves mixing white matt emulsion with water, to about the consistency of milk, then brushing it on before sealing with two coats of satin varnish. Easily applied liming wax is also available.
(WE ALWAYS ADVISE THAT YOU READ THE MANUFACTURERS INSTRUCTIONS AND DO A TEST ON A SMALL PIECE BEFORE CARRYING OUT ANY PAINTING OR FINISHING, CHESHIRE MOULDINGS ARE NOT RESPONSIBLE FOR ANY MISUSE WHEN IT COMES TO FINISHING A PRODUCT.)