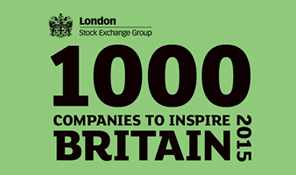 Cheshire Mouldings is proud to announce that we have been included in the London Stock Exchange's list of '1000 Companies to Inspire Britain'.
Here at Cheshire Mouldings we are thrilled to be considered one of the 1000 most inspirational companies in the UK.
The success of Cheshire Mouldings ultimately comes down to the hands-on approach of the Carney family. The Carneys' own tenacity has caused the company to strive for greatness, constantly wanting to be the best in terms of products and customer service.
"Service is at our heart here at Cheshire Mouldings," says Managing Director John Carney, "with our passion being driven by an urge to provide the best possible product to our customers".
What defines the London Stock Exchange's top 1,000 Companies?
The top 1000 companies have, on average, doubled their income over the past four years and Cheshire Mouldings is amongst that number. We now employ more than 70 employees and turn over an excess of £17m a year.
Another aspect taken into account, bar just net profit, is the culture of the companies involved in the top 1000 list. Here at Cheshire Mouldings we run a strict green scheme to limit any effect on the environment that deforestation may have. We only source our woods from the finest, ecologically friendly sources.
"I am absolutely thrilled that we have been included as one of the '1000 Companies to Inspire Britain'," says John, "it is nice to see all the hard work we have all put into Cheshire Mouldings recognised by such a big institution as the London Stock Exchange."
Cheshire Mouldings is continuing to grow at a remarkable rate and we could not be happier. It is a team effort, with everyone dedicated to our mission to be the best providers of wooden mouldings in the country.